Booth District Park in Pauoa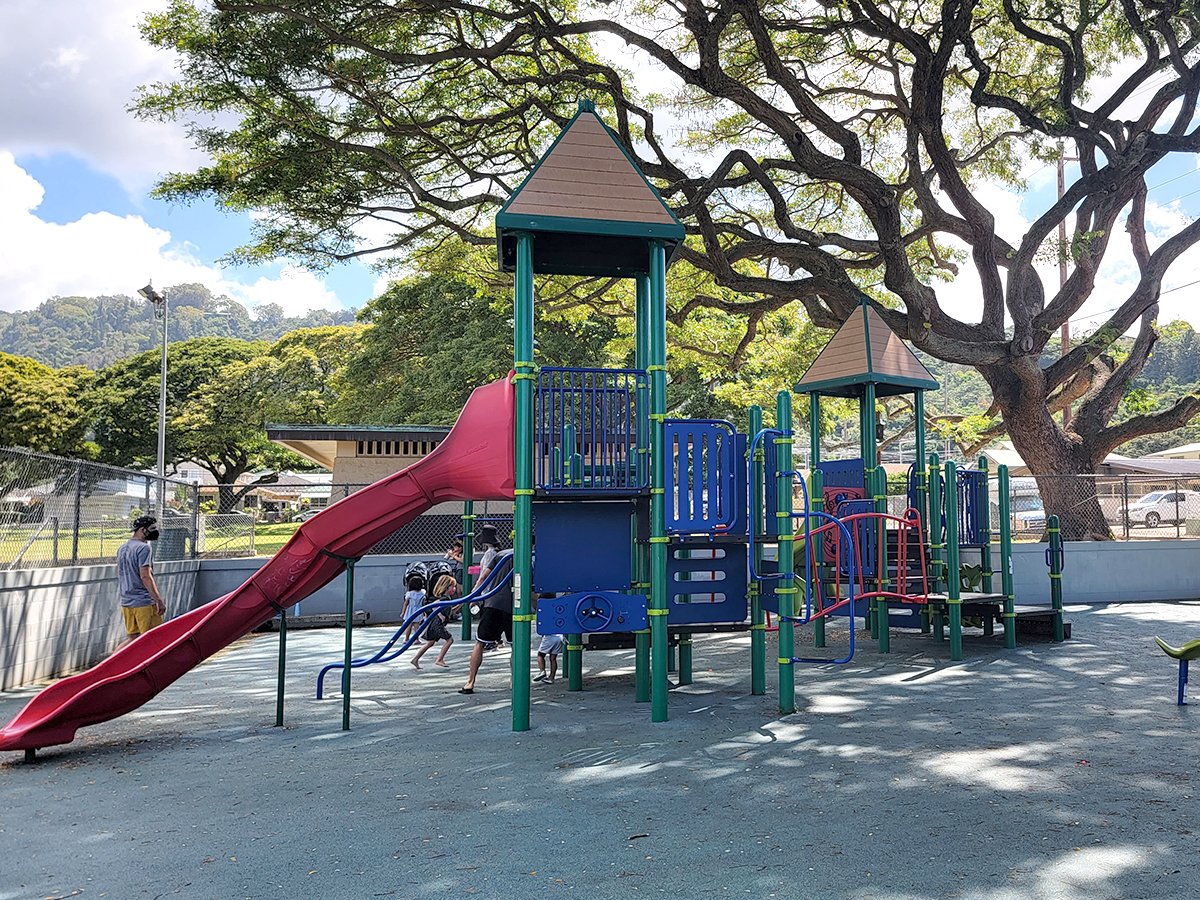 Playground Guide is a new monthly guide to our favorite playgrounds on Oʻahu.
RLately, whenever I have a first-time playdate with another mom, it's almost always been at the Booth District Park in Pauoa. The atmosphere is cool, it's free and requires minimal effort for a parenting date to get to know each other, to survive parenthood together. Large trees with huge branches provide ample shade for a picnic and/or coffee shop, stress-free residential parking, and the play area is fenced with a gate, so the neighborhood feels safe. Also, the location in the Pauoa Valley makes it a nice halfway location for people who live in town and for us. (We are in Salt Lake.)
I found Booth Park during the pandemic shutdown when we were exploring the playground to get to my two kids' naps without going crazy. At the time, the park had just been renovated. The rubber flooring feels like a sponge and is not hard, which makes it very absorbent against drops. Also in the morning you get a front view of garbage trucks and buses driving down the road – a big hit for my 2 year old son.
Location: 2341 Kaneali`i Ave., Honolulu, 96813
What do you want to know
playground equipment: Every time we come here, the children immediately head for the swings. There were four swings, but when we went this week one was removed, presumably broken. I feel like there are only a handful of public parks with swing sets, so my kids get their vestibular stimulation here.
Closer to the doors, there are three green "spinning things" as my kids call them – saddle spinners that you can sit on and spin for maximum fun (and motion sickness). (Note: writing this made me realize how little I knew about the actual name of playground equipment.)
There are two colorful play structures, one for younger kids and one for older kids. They are connected by a large red horizontal ladder. The smaller play area has double green wavy slides, wheels to 'drive', a series of bells you can ring, and a little hideaway below where my kids like to pretend they run a secret restaurant.
The second playground is exciting and more challenging but just as fun. My kids can climb with steps, a ladder, a vine climber or a wave walker climber to reach the top of the tower, which culminates with a longer red slide. There's a pull-up bar, another self-driving flywheel, and a small zipline.
Other amenities: We are big fans of this park because of the shade. There are low benches, fairly clean public toilets, garbage cans and a water fountain nearby. Besides the playground, there is a basketball court, dodgeball court, swimming pools, and a community center. On the other side of the path there is a large lawn ideal for picnics; it has six picnic tables in the shade of the trees.
Unique offers: Our kids love the mini zipline here, where they can grab the bar and push themselves to the other end and jump across the bridge. They need help reaching but can hang on pretty well throughout and my eldest can jump on their own.
Best for: The play area sign says the equipment is suitable for ages 5-12.
Best time to visit: Weekday mornings are relatively empty, but I have seen it sometimes gets busier between 11am and noon with groups of parents who love Booth District Park as much as I do and eat lunch here.
Car park: There is no parking here, but we never had trouble finding residential street parking.
My favorite thing about this playground: I'm a fan of how clean the playground is, how much shade there is, how friendly other families are, and how it keeps my keiki busy until nap time with minimal effort from mom.